The Richmond Virginia Fortune 500 List for 2009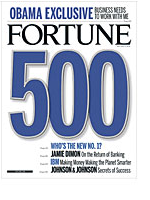 Leading the list of Richmond Virginia companies that are on the annual Fortune Magazine 500 list is Dominion Resources, known locally as "Dominion Power" and the electrical utility serving the Richmond area. Dominion Resources generates power through coal plants, nuclear energy, and gas and oil burning facilities. The company was founded in 1909 and is headquartered in Richmond. #157
The MeadWestvaco company which specializes in paper-based products and packaging, but also earns income through land management and chemical production, with an emphasis in office products. The company operates facilities in the United States, Canada, Mexico, South America, Europe, and Asia. It is headquartered in Glen Allen, Virginia, and was founded in 1888. #365
Owens & Minor, Inc., is a business based in Mechanicsville in Hanover County. Owens and Minor distributes medical supplies, specializing in consumable goods. The company also does supply-chain management, including inventory and information control for private, public and federal government hospitals and medical facilities. The Owens and Minor Company was founded in 1882. #339
Altria Group Inc. was a Fortune 100 company before spinning off it's international tobacco company (Philip Morris International) into separately public-traded business in 2008. Altria continues to specialize in tobacco products, but its business also includes transportation and business leasing. The company was founded in 1919 and is now based on Broad Street in downtown Richmond, Virginia. The original business was begun in 1847 by Philip Morris, in London, England. #160
Circuit City Stores, Inc., was the second largest chain of retail electronic stores in the United States before going into liquidation in 2008. The original business was begun by Samuel Wurtzel in Richmond, Virginia in 1949. In 2002 it spun off a subsidiary, CarMax Inc., which is still in operation and is also headquartered in the Richmond, VA area. #228
CarMax Inc began in 1993 in Richmond, Virginia, and operates 103 used car and 6 new car franchises in 49 market areas of the United States. #311
Genworth Financial Inc. was founded in 2003 (spun off from General Electric) and is a financial management company specializing in insurance, investments and mortgages, and is based in Henrico County. #271
The Performance Food Group Company, which was rated in the Fortune 500 in 2008, did not make the list in 2009 as the business is no longer publicly traded is is now held by two private equity security firms. It is based in Goochland County.

In total, Virginia has 18 companies on the 2009 Fortune 500 list., led by #83 General Dynamics Corp.
The now McLean-Virginia based Capital One Financial Corporation is rated #145. McLean, Va is just outside Washington DC. Capitol One continues to be a major employer in the Richmond Area with it's 318 acre company campus in Goochland County.
The Richmond, Virginia, Fortune 500 list:
Dominion Resources #57
Altria Group #160
Circuit City #228
Genworth Financial Inc. #271
CarMax Inc #311
Owens and Minor Inc. #339
MeadWestVaCo #365